Artificial Intelligence
2024 Planning: From Defending Your Budget to Defending Your Job
We should automate the work that gives us little joy and where humans have a limited advantage over a computer. We should replace what we automate with better, fulfilling, growth-oriented work.
Forrester recently estimated that AI will replace 7.5% of agency jobs by 2030.
We think the impact is going to be much more substantial.
A couple weeks ago, we shared with you the beginning of our research into AI and the impact on the marketing department.
Quick reminder: we developed 73 job descriptions for 233 marketing roles and rated them based on their defensibility against automation. Jobs with scores of 2.5+ were highly defensible, while those below 1.5 had lower defensibility. The average score was 1.67, with 16 roles (7%) being highly defensible, 99 (43%) medium, and 118 (50%) low.
There's more to this story, though. We found some worrying indicators beyond the raw, unsettling proportions of replaceable marketing work.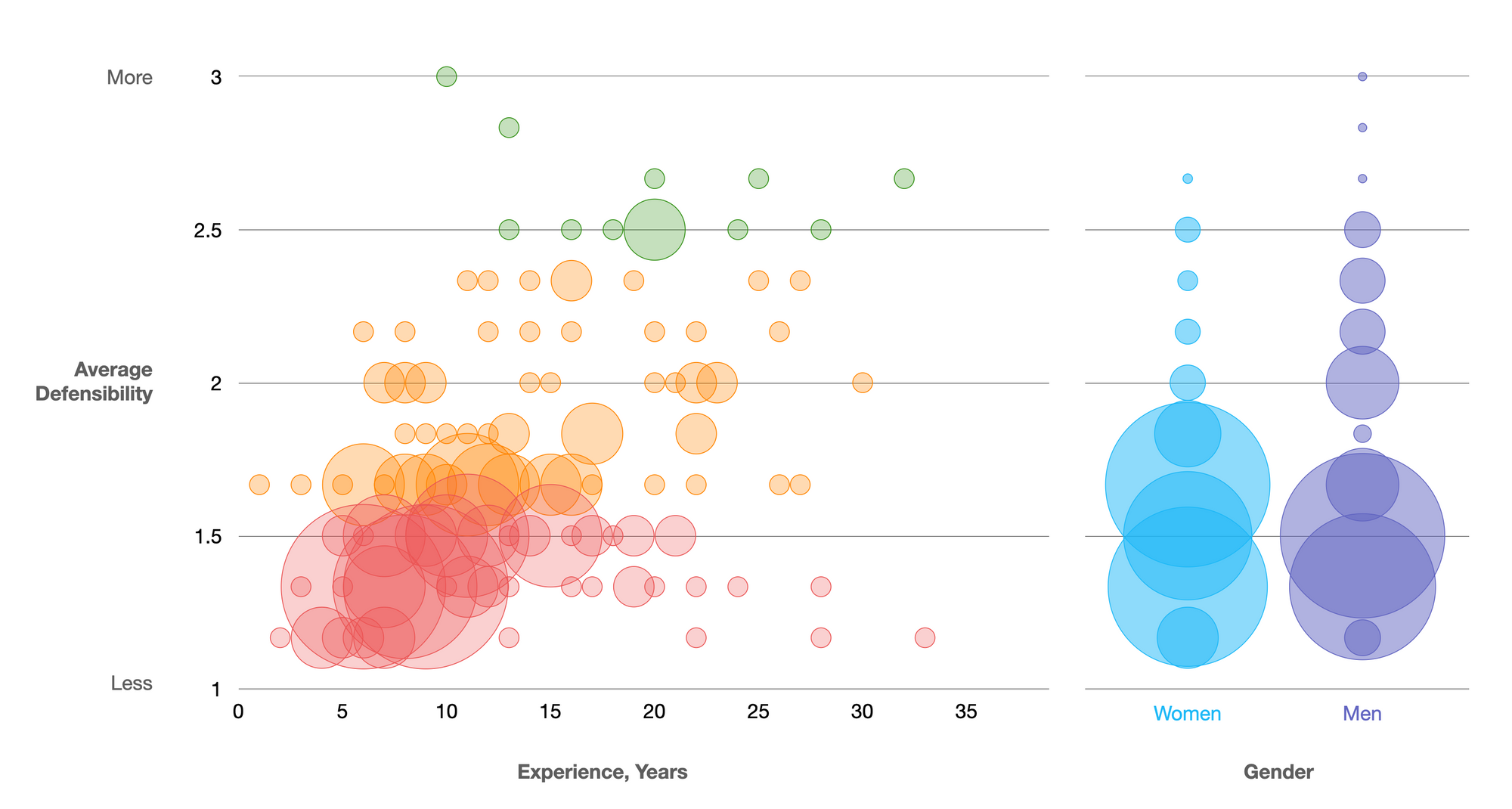 Folks: it's real dark!
Let's start with gender. The 136 women in the organization tended to hold jobs with less defensibility (average: 1.63) than the 73 men (average: 1.73). This "defensibility gap" is smaller than the salary gap in this organization, where the men's average salary was $161k and the women's was $131k.
This is an objectively terrible situation. Not only are women underpaid, they're also holding jobs with fewer defenses against replacement. Yikes.
The story isn't much better when we look at tenure and education. Of the 217 people in jobs with a medium-to-low defense against AI replacement, 107 had over 10 years of experience, and 65 had MBAs. According to Forbes, the average cost of an MBA is $61,800, totaling $4 million spent on additional education for all of those potentially replaceable jobs.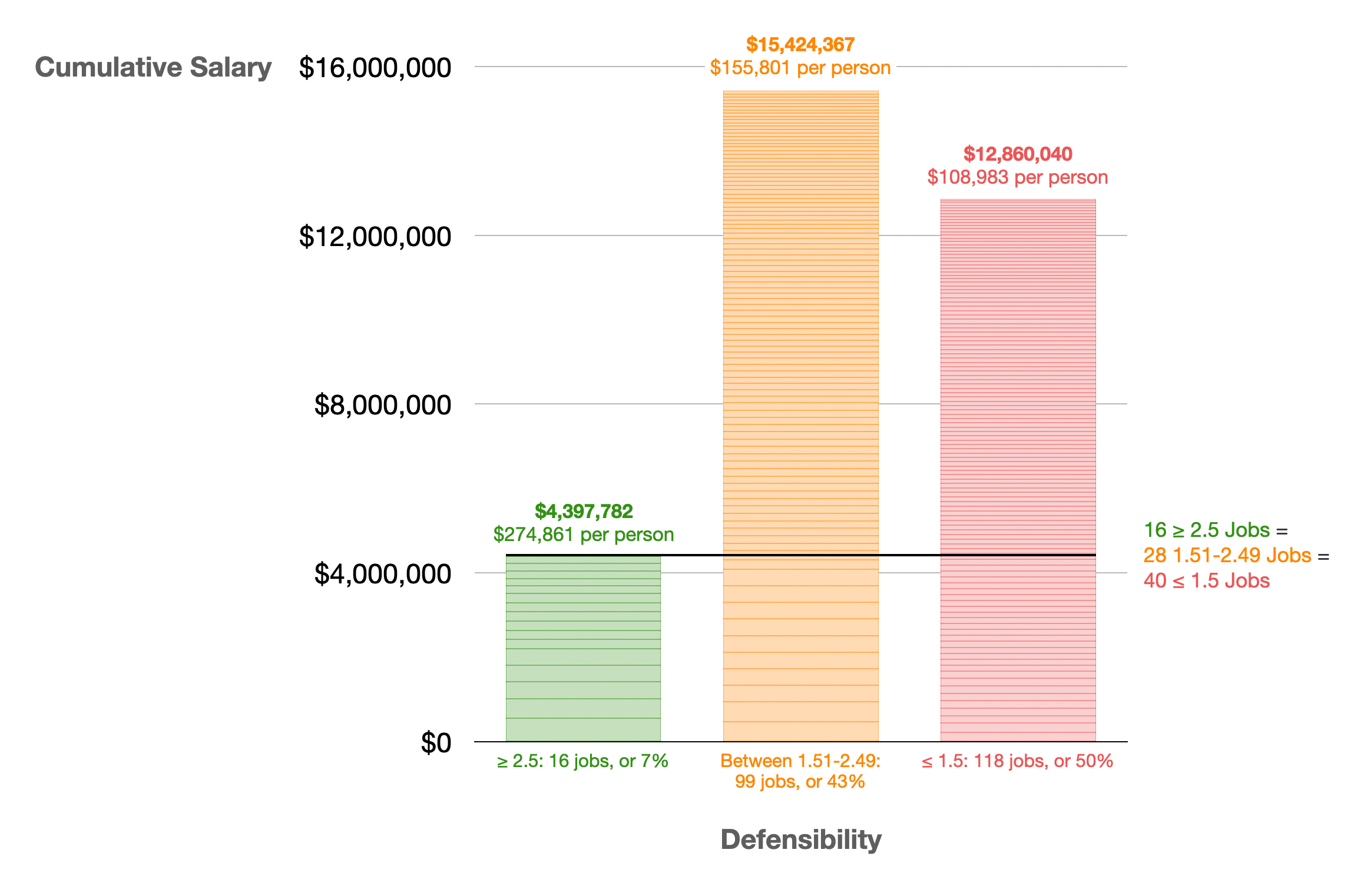 When we roll it all up, the annual salary cost of the 99 jobs with medium defensibility is $15.4 million, and the 118 jobs with low defensibility is $12.8 million. Eliminating half the jobs from each category would yield annual savings of $14.4 million, representing a 10 basis point improvement in the company's net income.
From a strategic point of view – this is an incredibly exciting moment. Companies that lean into artificial intelligence are going to have a hiring advantage for high-potential talent, a competitive edge against their peers in terms of product differentiation and better unit costs, and will be able to unlock new, previously unreasonable ways of doing business. That much is obvious to anyone who has even dabbled with these tools, and supported by extensive academic research.
From a human(e) point of view – it's more complicated. Each slice of that graph is a livelihood, and the chart couldn't be a better depiction of inequality if it tried: our research tells us that most of those jobs have a limited defense against replacement by a well-trained computer.
So…now what?
We didn't do all of this research to just prove out a bleak future but rather to gain real clarity around the pitfalls and potential wins lying in plain sight.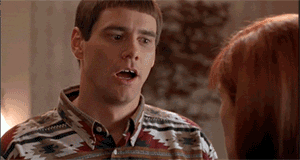 But this also somewhat misses the point: we should automate the work that gives us little joy and where humans have a limited advantage over a computer. We should replace what we automate with better, fulfilling, growth-oriented work.
Innovations that serve underserved and underrepresented communities
Breaking the systemic problems and systems in place in advertising & marketing
Developing and launching new (and more sustainable) products
Creating deeper relationships with customers and partners
Supporting psychological safety with and for peers
Coaching teammates, building new skills/capabilities
Impacting cultures and society towards forward change
Deep learning and research
Going home on time and/or focusing on health & wellness
Unfortunately, most of us only have a playbook suited for a pre-AI world, and our job descriptions reflect that playbook.
Thankfully, things like playbooks and job descriptions are well within our control. Better, more future-ready versions are within our grasp. We just need the will to make the leap.
Originally published at: