It's human nature for marketers to want to feel as though they are part of a team. The very word teamsignifies something deeply personal in business—a calling card, of sorts, that indicates one's stature and position within the organization. "I am on Josh's team," we say proudly to new colleagues and clients, or "I ladder up to Diane." As if that alone encapsulates who we are or what we do.
Given this, it is no surprise that marketers often bristle at the suggestion that their teams aren't working well or producing results. And senior leaders who are highly compensated for managing large numbers of people might feel threatened when told that their silos are leading to waste and inefficiency. There is institutional inertia and an understandable desire to maintain the status quo on team building, up and down the marketing department. No one wants to even think about rearranging the pieces on this chess board.
And that is why any successful organizational design strategy starts with asking team members a few basic questions: How is the current approach working out for everyone? How easy is it to do important work? How effective are the teams? What are the main problems with the structure? If you could organize roles and distribute work in any way you wanted, what would that look like? How would it feel?
When we pose these questions to members of our clients' marketing teams, they usually can't provide straightforward answers, through no fault of their own. And when they do, the answers usually leave a bitter taste.
The good, bad and ugly of current teams
To be clear, the hierarchies in today's marketing departments do serve the needs of the organization in some important ways. When done "right," the traditional team approach—think of it a matrixed Center of Excellence (COE) structure—concentrates subject matter experts and allows them to advance the "state of their art" for the benefit of all. Insights experts, for example, work mostly with other insights experts to come up with better ways to create and share insights throughout the organization. That's a good thing, and it can lead to more standardization, which in turn can create economies of scale.
For large multinational companies, a brand-centric COE has the ability to develop a single set of global brand standards that all business units can deploy consistently, rather than having different rules that change based on country/region borders. Again, not a bad thing. The issue is the lack of information availability, transparency and a productive working relationship that exists between business units and the COE, none of which are made any easier or better by the current team structure.
Far worse problems are created at the individual project level. The above figure shows the Category and Strategy teams in a typical marketing organization. Let's say the Category VP is "VP, Ice Cream." Brand C Director could be "Brand Director, Emerging Ice Cream Brands," and managerial roles would be titles like "Brand Manager, Talenti and Ben & Jerry's." They would initiate projects involving various capabilities, which all more or less look like the teams at the far right of Figure 1.
In this framework, teams are organized around capability areas, so that media, ops, analytics, insights, innovation and strategy units each contain a single capability. Their individual contributors and managers are usually aligned to the Categories/Brands on the left side of the chart. This creates all kinds of tension and conflict. Disagreements between Brand Director, Emerging Ice Creams and Strategy Director, Emerging Ice Creams usually can't get resolved individually and need the Strategy VP and the Category VP to agree before work can start or resume.
The category strategists are constantly fighting with the category leads and brand leads over who owns what and why:
Who decides what success looks like?
Who decides where to invest for the short term and long term?
Who has authority over audience prioritization?
Who decides on media investments – both the funding level and the channels?
Who can say "yes" to a creative execution?
These are just a handful of the tossups that now have to be debated for a single brand. Multiply this across all the brands. And then repeat for Innovation, Insights, Analytics, Ops, Creative, and Media. When leaders COE-ify marketing and rely on a functional matrix to get work done, their marketers end up spending more time meeting about who gets to do what rather than actually doing the work.
A vision for creating value-aligned teams
So what's the answer? It starts with a commitment to creating Real Teams organized around a mission, not a capability. In this environment, people report to a team, not to a "manager." They have a coach or a mentor who supports their growth and helps them through performance challenges, but this should not be the same person who assigns their work. People are rewarded alongside other team members for the value they create together. Teams conduct meetings to make, not to manage. And so on.
We are proposing to create two entirely new categories of Real Teams—Autonomous Marketing Teams (AMTs) and Marketing Capability Teams (MCTs)—in order to transform the unwieldy COE structure into fewer, slightly larger teams that are better defined and have a real reason to exist. COE-based teams are arbitrarily defined, ineffective and transitory. In a marketing department guided by AMTs and MCTs, teams are structurally sound, competent, stable and lasting.
Here's what that design could look like:
I. Autonomous Marketing Teams (AMTs)
These teams contain all the capabilities necessary to bring a product or service to market: pricing, procuring and developing product; selling into distributors; designing and promoting marketing materials. They're able to formulate and deliver a winning commercial ambition—in many ways resembling a small to midsize Direct To Consumer (DTC) operation.
AMTs Missions may include but are not limited to:
Product (e.g. launch a new product, expand into a new region, scale up or extend an existing line);
Category (e.g. run a group of small brands, run a group of new brands);
Customer (e.g. new, lapsed, emerging, affinity group, high/low lifetime value).
These teams will trend more senior, though that isn't necessarily the case. They have an exceptional work ethic, entrepreneurial spirit, structural and psychological safety for risk-taking, and use of new technologies can help untested teams achieve amazing outcomes.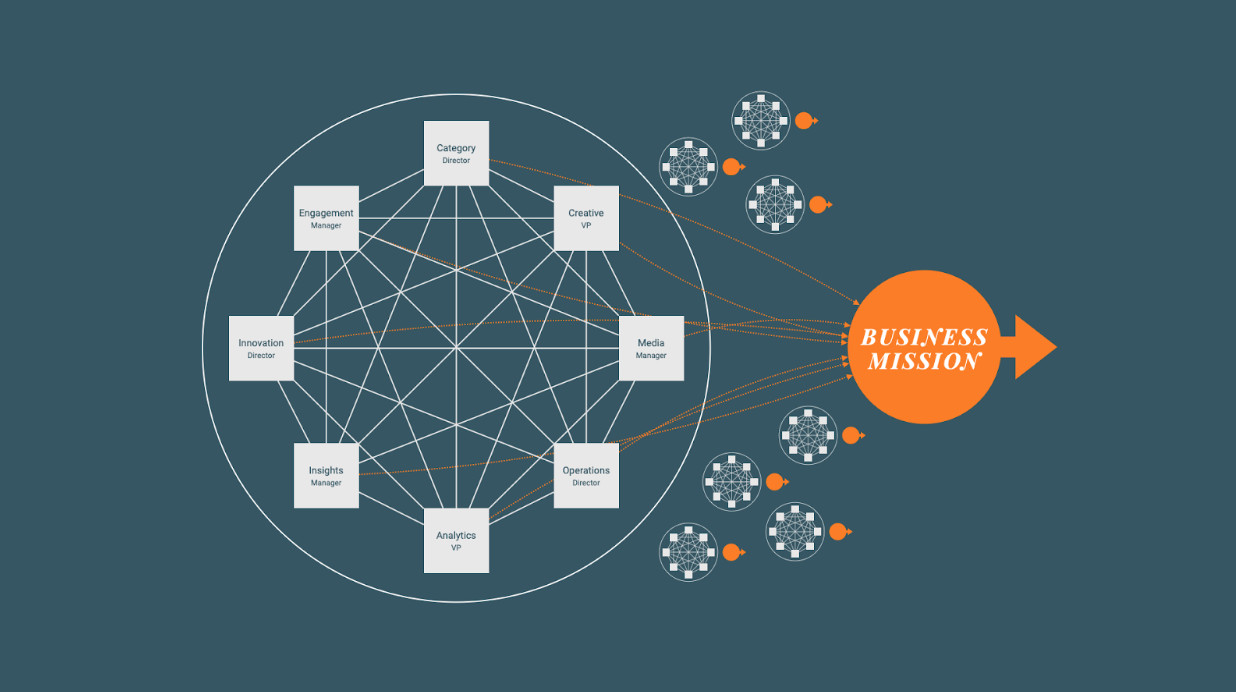 II. Marketing Capability Teams (MCTs)
These teams are created to assist AMTs when they cannot complete work autonomously, such as when they need expensive, hard-to-come-by specialist expertise. MCTs are collectively funded in response to a shared need. They can be ideal places to develop more junior, specialist talent before rotation into value-aligned teams. MCTs are competing with services offered by external teams. For this reason, they need to be more efficient and/or better at their job than outsiders, and they need to be real sources of differentiation. In practical terms, it is not helpful to have a media department that doesn't demonstrably make the business different from its competitors.
We envision two types of MCTs:
(1) Those that maximize value: Directly assist the AMTs like a consultant would, on a project-by-project basis. This means taking an existing internal function and re-framing it as an internal consulting firm with clear project scoping methods, engagement leads, SMEs and consultants. Examples include Brand Design, Product Design, Innovation Consulting, Commercialization, Media Planning & Buying, Team and Leadership Coaching, R&D and Creative.
(2) Those that minimize effort: Build reusable or automated tools that allow AMTs to get more done while retaining more knowledge. Examples include Always-on Insights & Analytics, Media Buying, e-commerce platforms, Knowledge management platforms.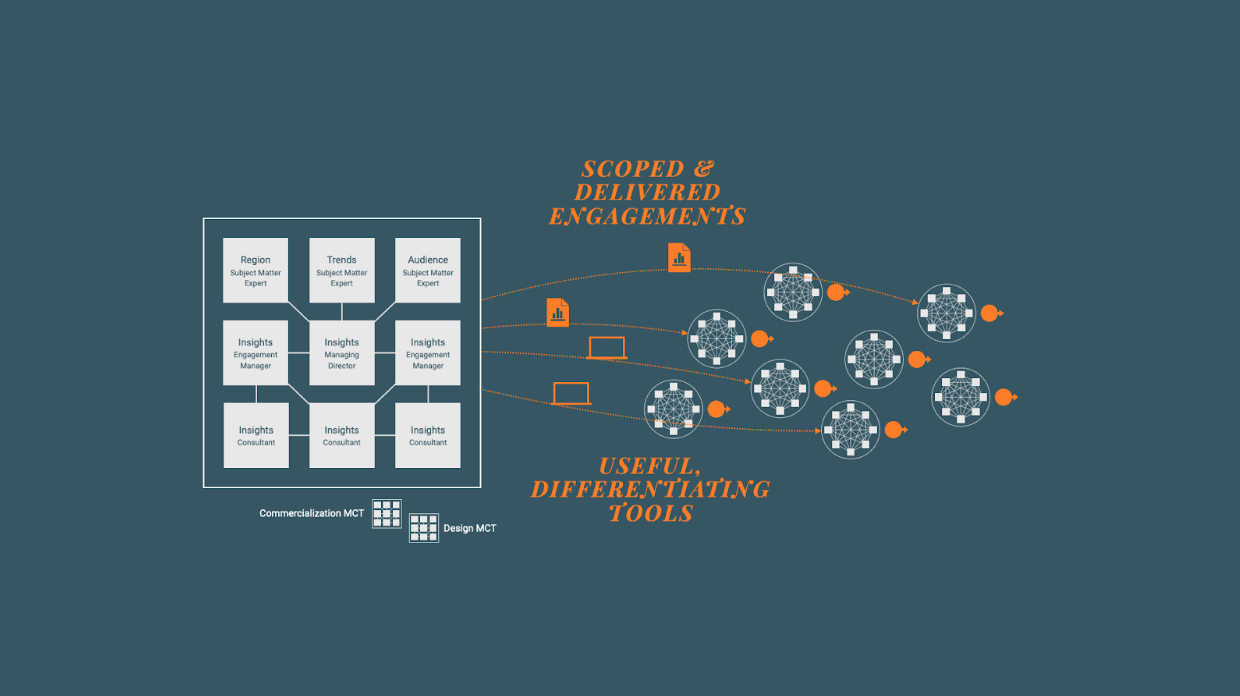 Highly engaged teams and people will emerge
Today's CMOs have only seen a fraction of what their people can do. The opportunity is that this change unlocks productivity and engagement across the team at scale. By putting the focus on getting great outputs done more efficiently and effectively, it delivers a sense of purpose and empowerment that translates into higher engagement.
We have observed: greater focus, overall satisfaction, deeper expertise, faster decision making and expanded skill sets. One team saw a reduction in time equal to 3,600%: "We have done more in 2 weeks than I had done in 18 months. By not having status meetings all day, I can actually get stuff done." In this particular case, the "stuff" was re-pricing a product line that allowed the team to win back a lost account. Imagine if the team waited 18 months to finish that work!
By advocating for Real Teams, it may sound like we're rooting for hierarchy-free anarchy. Quite the opposite. Real Teams doesn't mean "no leadership" or "everyone does what they want." Natural leaders will emerge in all team types. Organizations will count on those people to convene and energize teams, on others to decide how to allocate capital across new and existing teams and still others to build the platforms or tools that make it simple to understand which teams are creating value and which are not.
It does, however, mean the end of people focused only on management. And that may be scary for some people. But remember: A Real Team environment will not only create a lot more leaders, but also better, richer jobs for a bigger portion of the organization. Who would argue with that?